The Firearm Industry Trade Association
NSSF leads the way in advocating for the industry and its business and jobs, keeping guns out of the wrong hands, encouraging enjoyment of recreational shooting and hunting and helping people better understand the industry's lawful products.
Safety
We are the firearm industry, and we're dedicated to promoting
the safe, responsible use of our products. As a leading
authority on gun safety, it's our duty to pass that knowledge
on to others. From infographics and safety kits to videos,
literature and suicide prevention resources, NSSF makes
available tools every industry member can use to spread the word.
Real Solutions. Safer Communities.®
The firearms industry is committed to the safe, legal, and responsible ownership and use of firearms, and works on a daily basis to stop their criminal misuse. We share the concerns of all Americans, and we are working toward real solutions that help create safer communities.
Learn More
Project ChildSafe® Safety Sweepstakes Underway
Proceeds help NSSF's program meet demand for gun safety resources. Enter today for a chance to win one of the nine great prizes available.
More...
Firearm Industry Compliance Education Webinars
FREE in-depth compliance online training and insights via a monthly, live webinar series.
More...
Land your dream job here!
All across America, the firearm, ammunition and outdoor industry is hiring.
View Jobs
5 Most Common ATF Violations | Best Practices for FFLs to Stay Compliant
All FFLs should know the five "deadly sins" so they can avoid career-ending mistakes.
More...
Leaders in City Government, Law Enforcement and Hunter Education Join NSSF to Launch "Project ChildSafe Galveston"
Community-led effort focuses on promoting secure firearm storage, including free gun lock distribution, to help prevent firearm-related accidents, thefts and misuse, including suicide.
More...
Advocacy
The NSSF Government Relations team relentlessly advocates for measures on behalf of
and works in defense of the firearm and ammunition industry at all levels and before all
branches of government.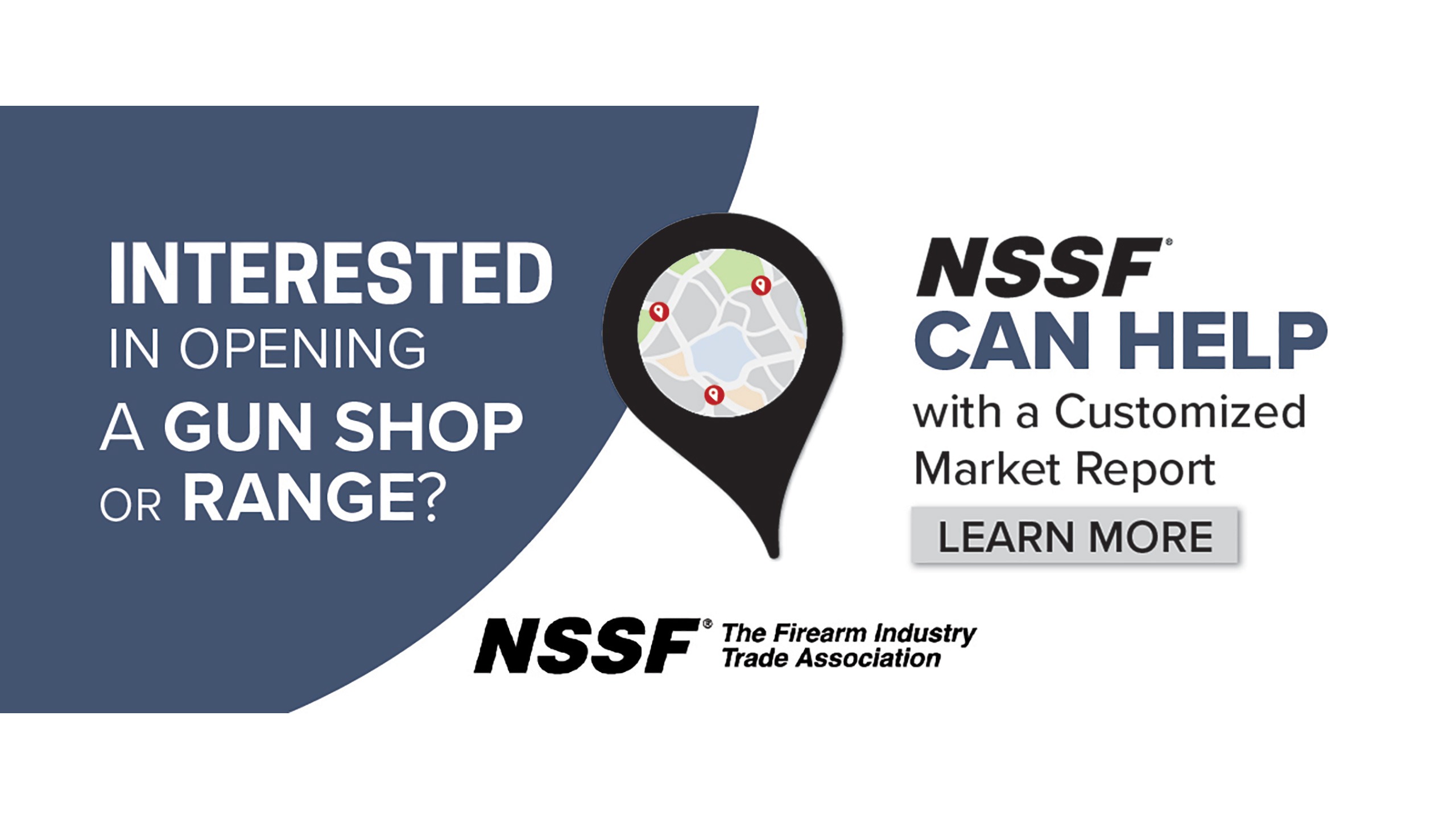 Best Seller
Customized Market Reports
NSSF Customized Market ReportsSM are tailor-designed market templates prepared specifically for your trade area. The information in these reports will aid you in building well-targeted marketing efforts that will ultimately improve your business.
Learn More
All Research Publications
2022
Modern Sporting Rifle (MSR) Comprehensive Consumer Report
Based on a 12/9/21–1/2/22 survey of AR- and AK-platform modern sporting rifle owners, this study was conducted to obtain current information regarding behaviors and interests in this segment of the firearm market.
Order Today
All Research Publications
Consumer Insights
Shooting Sports Participation Report
More than 50 million people enjoy sport and target shooting activities in the United States. Annual report details U.S. participation in hunting and target shooting sports including gender and age group, household income, regional and state data.
Learn More
All Research Publications
Current Campaigns & Programs
Become a member of NSSF
With a membership of thousands of manufacturers, distributors, firearm retailers,
shooting ranges, sportsmen's organizations and publishers nationwide, our industry's voice is strong.
Help us make it that much stronger.