NSSF is the trade association for America's firearms industry.
It's mission: To promote, protect and preserve hunting and the shooting sports.
Search NSSF


Bullet Points - Current Issue
Subscribe to Bullet Points
April 20, 2015

Vol. 16 No. 16
Firearms Industry Economic Impact
Rises 125% Since 2008
NSSF RELEASES NEW REPORT . . . The total economic impact of the firearms and ammunition industry in the United States increased from $19.1 billion in 2008 to $42.9 billion in 2014, a 125-percent increase, while the total number of full-time equivalent jobs rose from approximately 166,000 to more than 263,000, a 58-percent increase in that period, according to a new report released today by the National Shooting Sports Foundation. "We have seen continued dramatic growth in the firearms and ammunition industry that is the direct result of consumer demand for our products since 2008," said Stephen L. Sanetti, NSSF President and Chief Executive Officer. Access The Firearms and Ammunition Industry Economic Impact Report: 2014.
THIS WEEK IN WASHINGTON: NSSF CONGRESSIONAL FLY-IN . . . The annual NSSF Congressional Fly-In this week in Washington, D.C., will bring together a record number of leaders from NSSF Voting Member companies and supporting distributor and manufacturing member companies, as well as leading retailers, to meet with members of both houses of Congress. At stake this year is passage of the Bipartisan Sportsmen's Act, the industry's top priority, as well as defeating President Obama's regulatory gun control agenda. Other issues to be discussed include export control reform and "Operation Choke Point." To learn more about the importance of the Fly-In, watch this short video.
First Shots
FIRST SHOTS 'BIG CITY TOUR' ROLLS INTO DALLAS MAY 1-3 . . . Participation in target shooting is at an all-time high, and newcomers will be able to see what all the excitement is about by attending a First Shots seminar at one of six Dallas-area target-shooting facilities May 1 through 3. NSSF and the shooting facilities have made it easy for people to acquire an introduction to target shooting and firearms safety by scheduling several First Shots events over the three days around the Dallas area. Facilities taking part include Bass Pro Shops, Eagle Gun Range, Elm Fork Shooting Sports, Proactive Defense and Shoot Smart. The Dallas events are the latest stop on the First Shots "Big City Tour," which has brought the program to Atlanta, Chicago, Miami, Sacramento, Washington, D.C., and other major cities across the country. For more information, visit firstshots.org.
Setting the Record Straight
WAL-MART WINS APPEAL IN GUN SALES CHALLENGE . . . The tactic of using the shareholder proxy process as a means of advancing a political or social agenda was dealt a serious legal setback last week when a federal appeals court ruled that a church group holding a small number of Wal-Mart's shares did not have the right to challenge the company's sales policies on firearms. NSSF Senior Vice President and General Counsel Larry Keane told the Washington Times, "It's untenable for shareholders with a political agenda to be making business decisions for a company. If they don't agree with the business decisions of the company, they can sell their shares."


Government Relations
NSSF WINS REPEAL OF MARYLAND'S BALLISTICS IMAGING PROGRAM . . . After years of work to convince Maryland legislators that the state's failed ballistics imaging program needed to be officially ended, NSSF can claim victory. All of NSSF's work was capped by a final push in the waning days of the legislative session last week and the bi-partisan legislation was approved by both the Senate (44-0) and the House (135-2). State Sen. Edward Reilly was the sponsor of SB 736 that repealed the provision of the law passed in 2000 that required firearms manufacturers and retailers to submit bullet casings for all handguns sold in the state. The bill now goes to Gov. Larry Hogan, who has said he will sign it into law. Last week's action brings to an end a decade-and-a-half-long experiment in crime lab technology that never worked but that was embraced by gun control advocates. Under the direction of Jake McGuigan, Director, Government Relations-State Affairs, NSSF has worked diligently in Maryland to repeal this legislation accelerating the effort following the 2012 removal of a similar law from the books in New York State. Maryland was the only remaining state with this mandate. Read more.


NSSF RECEIVES SPECIAL CONSULTATIVE STATUS AT UN . . . NSSF has officially received United Nations special consultative status. The formal vote by the Economic and Social Council this month was preceded by our application's approval by the Committee on Non-Governmental Organizations (NGOs) earlier this year and is the result of a full year of meetings and lobbying to have our application accepted. With this status, NSSF will have access to not only the Economic and Social Council, but also its many subsidiary bodies, the various human rights mechanisms of the UN ad-hoc processes on small arms, and special events organized by the President of the General Assembly.


BILL TO END INACTIVE INDIANA LAWSUIT LIKELY HEADED TO GOVERNOR . . . The Indiana House of Representatives voted to approve legislation last week that will likely put an end to a 16-year-old, inactive lawsuit aimed at the firearms industry. SB 98 sponsored by state Sen. Jim Tomes and state Rep. Ben Smaltz, passed by an overwhelming, bipartisan vote of 72-23. SB 98 heads back to the Senate for a concurrence vote early this week. The Indiana Senate passed this bill earlier in the session by a vote of 37-11. Additionally, Gov. Mike Pence indicated his support for the bill earlier in the year.


VERMONT FIXNICS BILL OVERCOMES HOUSE OBSTACLE . . . Although the Vermont State Senate passed S.141 and sent it to the House in hopes a clean version without negative amendments would be addressed, last Tuesday the House Judiciary Committee approved a surprise amendment making it nearly impossible for someone in Vermont to regain his or her gun rights after being reported to the FBI's National Instant Criminal Background Check System (NICS). However, Vermont Federation of Sportsmen's Clubs and Gun Owners of Vermont mobilized and convinced the committee to restore the original language. The committee also removed an 18-month waiting period requirement for petitioners seeking restoration of their rights. The bill passed the House 80-62, and it incorporates NSSF's FixNICS language that over the last two years has been successfully championed from Alaska to Georgia. As previously reported, NSSF's concern was with the fact that the Vermont house would try to amend the bill. Fortunately those attempts have been defeated.


CAPITO BILL WOULD INCREASE FUNDS FOR PUBLIC RANGES . . . U.S. Sen. Shelley Moore Capito (R-W.Va.) has introduced legislation supported by NSSF to make more funds available for the development of public shooting ranges. The Target Practice and Marksmanship Training Support Act (S.992) encourages states to develop additional shooting ranges by making more funds available to state fish and wildlife agencies through the Pittman-Robertson Act, which is financed by excise taxes on firearms and ammunition. "This bill responsibly increases the funding available for the development of public shooting ranges without increasing federal spending and encourages improved federal, state and local cooperation to maintain ranges on federal land and encourage their continued use," Capito said.
For more of the latest Government Relations news, see last week's Government Relations Update.
ATF
NSSF/ATF REWARD YIELDS INFORMATION LEADING TO ARRESTS . . . The ATF Charlotte, North Carolina, field office late last week told NSSF staff that the joint ATF-NSSF $10,000 reward for information in the Feb. 23 robbery at Washington Coin & Pawn Shop Robbery in Washington, North Carolina, was "very instrumental" in the identification and arrest of two suspects currently being held on state charges. An additional suspect is considered a fugitive and is being sought in the robbery during which 27 firearms were taken. Federal charges are still pending.
Retailers
HOW TO MAKE FIRST-TIME GUN BUYERS REPEAT CUSTOMERS . . . How you go about preparing your first-time firearms buyer to be loyal customers is limited only by your imagination. The thing to keep in mind is that you're building a next sell—not upsell, next sell—opportunity. To do that, you have to give your customers a chance to enjoy firearms and the shooting sports beyond whatever necessity drove them to your store in the first place. Teach them, engage them and they will come back time and time again. Read more.


Advertisement
POS System Designed for Gun Stores
... Manage your
A&D book
,
trade-ins/buy-backs
,
consignment
,
rentals
, and
smithing
with one system. There is even an optional component for
shooting range management
. The Rapid Gun System provides turnkey solutions for gun stores and shooting ranges. Their mission is to provide the
world's best POS system for gun stores
. Their integrated A&D book helps keep you compliant with ATF Ruling 2013-5 without having to utilize multiple systems. Easily manage your gun show sales, holding periods, special orders, driver's license scanning, and integrate with your current accounting software. Designed with enhanced email marketing capabilities, the
Rapid Gun System
helps drive business while you run your business. Their system is configurable to create a perfect fit for all sizes of gun stores - from mom-and-pop to multi-chain stores. Call 619.754.4100 to speak with one of their gun system experts.
Advertisement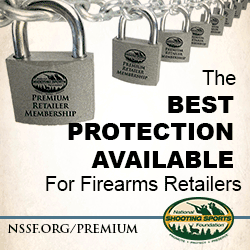 ATF Q&A . . . Every week many great questions come in on our NSSF member compliance hotline. This hotline is free to our members and available 24/7. Log into your account to get the details. The first question relates to renewing an FFL that is close to expiring. The second question asks what responsibilities an FFL has when responding to a request to trace a firearm. Click on the links to find answers to these and many more great questions from our members.


IS YOUR SITE MOBILE FRIENDLY? . . . Have you been dragging your feet on a mobile version of your site or upgrading to a responsive template design? If you have, you are not mobile friendly and it could affect your traffic and sales in the future. Beginning April 21, Google will begin incorporating your site's mobile-friendliness into its ranking algorithm. If your answer to the question "Is Your Site Mobile Friendly?" is no, then you need to take some immediate steps to move in that direction. Read more from Outdoor Business Network.
Members
DID YOU KNOW? . . . NSSF members receive a significant discount from a web-design company that specializes in firearms and outdoor businesses to provide customized online business solutions. Find out more.
RESEARCH
USITC FIREARMS AND AMMUNITION DATA FOR FEBRUARY 2015 . . . NSSF tracks and reports monthly U.S. import units for several sporting arms, ammunition, and optics categories from the US International Trade Commission. See a complete breakdown for February 2015 compared to February 2014. NSSF members may access additional historical import and export data by logging in and clicking NSSF Industry Research.


SUPPORT FOR GUN RIGHTS INCREASES . . . The Pew Research Center's Andrew Kohut late last week in the Wall Street Journal took the opportunity to revisit public opinion survey data it first presented in December 2014 that found more Americans say they believe that protecting gun rights is more important than controlling gun ownership, by a 52 percent to 46 percent margin. Noting that the public's perception are at odds with what has actually been a decrease in violent crime over the last two decades, Kohut wrote, "In short, we are at a moment when most Americans believe crime rates are rising and when most believe gun ownership — not gun control — makes people safer." Read the Pew Research Center report.
News of Note
NSSF NAMES SCHILLING DIRECTOR OF EXHIBITIONS AND CONFERENCES . . . NSSF has announced that Melissa Schilling has been promoted to the position of Director, Exhibitions & Conferences. Schilling's most recent position with the organization has been Director, Recruitment & Retention, a title she's held since 2012. Schilling brings a wealth of talent to this new position, which includes development and organization of NSSF's many conferences and shows, including its annual Industry Summit, Congressional Fly-In and the SHOT Show, one of the country's largest trade exhibitions, attended annually by more than 65,000 firearms industry professionals from all 50 states and more than 100 countries. Read the full press release.


DELTA WATERFOWL PARTNERS WITH PROJECT CHILDSAFE . . . In a press release last week, Delta Waterfowl Foundation announced it is joining forces with NSSF's Project ChildSafe program to emphasize the importance of responsible firearm storage to its members and their families. "Firearm safety is a key component in Delta Waterfowl's First Hunt program, the largest waterfowl hunter recruitment program in North America," said Jason Tharpe, Chief Operating Officer of Delta Waterfowl. "Project ChildSafe's message to 'Own It? Respect It. Secure It,' aligns with our mission and dedication to teach the next generation of waterfowl hunters." Delta Waterfowl will promote Project ChildSafe gun safety messages in regular communications, events and online, and Project ChildSafe will provide educational resources for Delta Waterfowl members, including safety fact sheets and its latest safety resource, the "How to Talk to Your Kids About Gun Safety" video.


GENEROUS SUPPORT OF NSSF RIMFIRE CHALLENGE CONTINUES . . . NSSF is pleased to announce that New Hampshire-based firearms accessory creator Tandemkross has once again agreed to be a sponsor of the NSSF Rimfire Challenge. Specializing in USA-made components, magazines, sights, optics and other accessories, Tandemkross has renewed its sponsorship for the 2015 Rimfire Challenge series at the Bronze level. Gold Coast Armory has made a donation in the amount of $22,000 to NSSF in support of the organization's premier shooting event series, the Rimfire Challenge. Florida-based Gold Coast Armory, a wholesale supplier of ammunition, currently serves as the distributor for the competition's Rimfire Challenge Ammo Roundup Program, which ensures match directors have a steady supply and selection of .22 Long Rifle ammunition available to sell to local competitors at reasonable prices.


content provided by

FIVE CRITICAL TIPS FOR SELLING INTERNATIONALLY THROUGH EXPORTERS . . . It is common practice in the firearms industry for U.S. manufacturers to sell to foreign customers through a U.S.-based exporter who, in the eyes of the manufacturer, is responsible for all the legal, financial and logistical aspects of moving product from the U.S. to the foreign country and receiving payment. If you are a manufacturer serving foreign customers in this fashion, read about steps you should take in order to protect yourself. Orchid Advisors is an endorsed compliance information provider for NSSF members.


SPEAKERS, SPONSORS ANNOUNCED FOR MAY COMPLIANCE CONFERENCE . . . Orchid Advisors and NSSF have announced keynote speakers and top sponsors for the 2015 Firearms Industry Compliance Conference (FICC) to be held on May 11-13, 2015, in Orlando, Florida. More than 30 speakers will be present from organizations such as ATF, Remington Outdoor Company, Smith & Wesson, Sports Authority, Dunham's Sports, NSSF, Orchid Advisors and SAAMI. Discounted registration is available to all NSSF members. Register to attend. Highlights from last year's event can be found on the Orchid Advisors website. ALERT - Fraudulent Hotel Scam: Be aware of third party organizations that may contact you to register for the 2015 FICC or hotel (ex: Exhibitors Housing Services is NOT an authorized service provider). You should book your reservations only through the Orchid Advisors' registration page. DO NOT GIVE THEM ANY INFORMATION. Contact mingram@orchidadvisors.com if you have any questions.


NSSF IN THE NEWS . . . The Washington Post, The Wall Street Journal, North American Hunter and many other news outlets across the country included NSSF in their coverage last week. Popular topics included the new NSSF "Ammunition Under Attack" infographic, women and the shooting sports, impacts of Project ChildSafe and more. View a full wrap-up of NSSF in the News.
NSSF PAC
THANK YOU TO OUR LATEST NSSF PAC CONTRIBUTORS

Caucus Club ($500 or more): Craig Crotteau, Kevin Reid, Patrick Rothwell
Congressional Club ($250 or more): Mike Bazinet, Robert Cicero, Joseph Keffer, Bruce Pettet, Russell Thurman, George Trulock, Renae Waltemath
Industry Club (up to $249): Jon Vickery


Jobs
FIREARMS INDUSTRY JOBS . . . Visit nssf.org/jobs for current employment opportunities in the shooting, hunting and outdoor industry. Employers: Log in to post a job opening.
NSSF's Mission

"To promote, protect and preserve hunting and the shooting sports. "

Click here to visit the NSSF website and see how we accomplish this mission.
COPYRIGHT © 2015 by National Shooting Sports Foundation, Inc. Permission is granted for broadcast, publication, retransmission to email lists, Websites or any other copying or storage, in any medium, online or not, if 1) the text is forwarded in its entirety, including this paragraph, and 2) no fee is charged. "Bullet Points®," "National Shooting Sports Foundation®," "NSSF®," and all other trade names, trademarks, service marks, logos and images of the National Shooting Sports Foundation appearing in this publication are the sole property of the Foundation and may not be used without the Foundation's prior express written permission. All other trade names, trademarks, service marks, logos and images appearing in this publication are trademarks or registered trademarks of their respective owners.