NSSF is the trade association for America's firearms industry.
It's mission: To promote, protect and preserve hunting and the shooting sports.
Search NSSF


Bullet Points - Current Issue
Subscribe to Bullet Points
March 30, 2015

Vol. 16 No. 13
New Project ChildSafe Video on
Talking to Kids about Safety
Even if kids aren't asking about gun safety, that doesn't mean they don't have questions. Project ChildSafe has teamed up with Julie Golob, a veteran, competitive shooting sports champion, hunter and mom, to discuss the importance of gun safety education. She's joined by a group of kids whose thoughts about firearms will help inform parents about the best way to start a conversation. The result is an exclusive video — the first of its kind — to remind gun owners about the importance of having this conversation with their families. Join us in a discussion about what to say, how to say it and the key elements to think about when speaking to your family about firearm safety. Read the press release.
BLOGGERS PROMOTE NEW GUN SAFETY VIDEO . . . Two influential bloggers were among the many in the social media community helping to spread the word about Project ChildSafe's new video that encourages parents to talk to their kids about gun safety. Lee Williams, The Gun Writer for HeraldTribune.com, writes, "Today, there are some folks who haven't grown up with guns or served in the military, who may need some help talking with their kids about firearm safety. Our friends at the National Shooting Sports Foundation have created a great video, which is a perfect way to start the conversation." And Bob Owens at BearingArms.com refers to the video as "actual gun safety" and contrasts NSSF's effort with the tactics of gun control groups whose version of "gun safety" is promoting fear of guns, restrictions and bans.


NEW JERSEY MAYOR PUSHES FOR GUN SAFETY EDUCATION . . . Debbie Buzby-Cope, mayor of Bass River Township, New Jersey, and also head of the New Jersey Conference of Mayors, is appealing to her fellow mayors to promote firearm safety in their communities by using NSSF's Project ChildSafe program materials. In a recent news article, she also talks about inviting mayors to try target shooting and her goal of having legislation passed that would require a 15-minute gun safety class to be taught in elementary schools. "We talk about drugs, alcohol, sex, texting, bullying in schools — and these are all the issues — but it's kind of like gun safety got pushed off to the side, and we're not talking about it with kids like we used to," Buzby-Cope said. Guns.com also wrote about the mayor's efforts.


SPORTSMAN'S WAREHOUSE, PHOENIX P.D. SUPPORT PROJECT CHILDSAFE . . . Last week Sportsman's Warehouse incorporated the Project ChildSafe program and its new video on parents talking to their kids about gun safety into "Ladies Night" events at more than 50 stores nationwide. In Phoenix, the giant retailer went a step further by hosting an in-store press conference with NSSF and the Phoenix Police Department, which will be distributing Project ChildSafe gun locks and safety literature and promoting the new video. "We're grateful for the leadership shown by both Sportsman's Warehouse and the Phoenix Police Department on gun safety," said Bill Brassard, NSSF Senior Director of Communications, at the press event. "Our new video helps parents open a door for a conversation on gun safety that shouldn't be put off."
Government Relations
FDIC HEAD ADMITS 'MISTAKE' IN 'OPERATION CHOKE POINT' . . . Federal Deposit Insurance Corp. Chairman Martin Gruenberg told members of a U.S. House panel last week that much of the FDIC's involvement in "Operation Choke Point" was a "mistake," including the decision to create a now-withdrawn list of "high risk" industries that included firearms businesses. NSSF has been working with Members of Congress to stop discriminatory practices against FFLs as a result of this operation. At the hearing was NSSF retail member Mike Schuetz, owner of Wisconsin-based Hawkins Guns, who was told by his credit union that he couldn't bank with them because of federal regulators' guidance. In the Senate, meanwhile, Sen. Mike Crapo (R-Idaho) introduced an amendment to the budget resolution to end Operation Choke Point that was passed by the full Senate on Friday. Click here to see Senator Crapo introduce this amendment in committee.


OREGON UNIVERSAL BACKGROUND CHECK BILL INTRODUCED . . . Legislation has been introduced in Oregon that would require background checks for private firearm sales. Sponsored by Senate Judiciary Committee Chairman Floyd Prozanski (D-Eugene), SB 941 expands background checks for all firearms transfers between private individuals. The bill exempts background checks for the transfer of firearms by a law enforcement agency, private security, members of the military, between spouses, domestic partners or other immediate relatives, or resulting from a death. Retailers will be allowed to charge the service fee they deem necessary for completing a criminal history record check. The bill also grants retailers immunity from potential civil liability resulting from conducting the background check.


NSSF CONGRESSIONAL FLY-IN IS APRIL 22-23 . . . Registration is open for the annual NSSF Congressional Fly-in, April 22-23 in Washington, D.C. This is a great opportunity for leaders from NSSF Voting Member companies and supporting distributor and manufacturing member companies, as well as leading retailers, to meet with members of Congress. At stake is passage of the Bipartisan Sportsmen's Act, the industry's top priority, as well as defeating President Obama's regulatory gun control agenda. To learn more about the importance of claiming a seat at the table, watch this short video. For security purposes, a full agenda including locations and information on how to book a room in the NSSF hotel block will be sent to you via email after you register. Register today to attend this crucial Fly-In.


LIVE FROM NEW YORK: IT'S MORE ANTI-GUN THEATER . . . As is the case with so many of the efforts we see from the gun control lobby, the video recently produced by Grey Advertising, one of Madison Avenue's best known agencies, for the astro-turf States United to Prevent Gun Violence will appeal mostly to those already on the anti-gun side of the national debate. It's theater for a select audience and they're talking to themselves. Read NSSF Senior Vice President and General Counsel Larry Keane's blog post.
For more Government Relations news, read NSSF's latest Government Relations Update.
FixNICS Program
VERMONT SENATE APPROVES FIXNICS BILL . . . The Vermont Senate Thursday passed S.141 on a final voice vote without further amendment. The bill will go to the House next week. Sen. Dick Sears (D-Bennington), chairman of the Senate Judiciary Committee, who earlier worked to put an end to a universal background check bill, championed this measure. The legislation extends to the state a federal ban barring those convicted of most violent felonies or found mentally unstable by a court from possessing a firearm. It incorporates NSSF's FixNICS language that over the last two years has been successfully championed from Alaska and Hawaii to South Carolina and Georgia. Sen. Sears was the sponsor of NSSF's stand-alone FixNICS legislation last year and continued his fight this session. The concern now lies with the more anti-gun house, where members will have the ability to amend the bill to include the background check requirement. NSSF will continue to oppose any new amendments to the bill.
Don't Lie for the Other Guy
PUBLIC AWARENESS CAMPAIGN LAUNCHES IN CAMDEN, WILMINGTON . . . As part of the firearms industry's ongoing national effort to help deter illegal "straw" purchases of firearms, NSSF is reminding the public in Camden, New Jersey, and Wilmington, Delaware, that stiff penalties are in place for individuals convicted of such purchases. Billboard advertisements for the Don't Lie for the Other Guy program have been purchased by NSSF in key locations throughout the region. Approximately 4.8 million weekly media impressions will be delivered via billboards while more than 600 30-second radio spots will air during the campaign. "Don't Lie" is a cooperative program between the Bureau of Alcohol, Tobacco, Firearms and Explosives and NSSF. The effort was developed over a decade ago to raise public awareness about the seriousness of the crime of purchasing a firearm for someone who cannot legally do so. The program also helps ATF educate firearms dealers so they can be better prepared to deter potential straw purchases. Camden and Wilmington were chosen for this campaign in consultation with ATF. See the press release.
Advertisement
POS System Designed for Gun Stores
... Manage your
A&D book
,
trade-ins/buy-backs
,
consignment
,
rentals
, and
smithing
with one system. There is even an optional component for
shooting range management
. The Rapid Gun System provides turnkey solutions for gun stores and shooting ranges. Their mission is to provide the
world's best POS system for gun stores
. Their integrated A&D book helps keep you compliant with ATF Ruling 2013-5 without having to utilize multiple systems. Easily manage your gun show sales, holding periods, special orders, driver's license scanning, and integrate with your current accounting software. Designed with enhanced email marketing capabilities, the
Rapid Gun System
helps drive business while you run your business. Their system is configurable to create a perfect fit for all sizes of gun stores - from mom-and-pop to multi-chain stores. Call 619.754.4100 to speak with one of their gun system experts.
Advertisement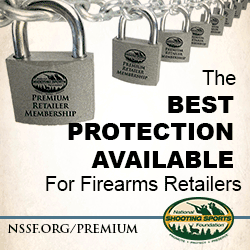 Import/Export
STATE TELLS NSSF NO 'REVERSE' EXPORT CONTROL . . . NSSF last week met with Deputy Assistant Secretary of State for Defense Trade Controls (DDTC) Ken Handelman and received assurances that the "reverse" export control NSSF confirmed had been under consideration is not going forward. NSSF discussed industry support for Export Control Reform (ECR) and the status of moving licensing of our products (USML Cat I – III) to the Commerce Department. The matter is being actively considered and a better indication should be available in mid-April after ECR interagency group meetings. We also discussed related topics including the congressional notice threshold, non-exporting manufacturer registration fees, guidance regarding standard 30-round magazine export and policy change to allow commercial export of suppressors to countries where they are lawful. Finally, NSSF broached the AES Temporary Export problem. We will seek a meeting with Customs to discuss the impractical requirement that individuals must file for the temporary export of up to three firearms and 1,000 rounds of ammunition. NSSF was first to raise this issue after DDTC, apparently at Customs' request, amended the pertinent ITAR regulation in 2012.
Legal
FEDERAL COURT DISMISSES SUIT AGAINST ONLINE RETAILER . . . In a major victory for firearms and ammunition retailers, a Colorado federal court last week threw out a Brady Center-backed lawsuit arising out of the Aurora, Colorado, movie theatre shooting. The case, Phillips v. Lucky Gunner, was brought by the parents of a victim in the tragedy against several online FFLs from whom the mentally deranged shooter, James Holmes, purchased materials. Brady Center lawyers representing the family members alleged that the Internet business practices of the FFLs did not include "reasonable safeguards" to prevent persons such as Holmes from purchasing their respective products. The court found that the Protection of Lawful Commerce in Arms Act (PLCAA) as well as a Colorado preemption statute required dismissal of the Brady Center's lawsuit. In dismissing this action, the court notably joins the ranks of numerous other courts that have consistently found the PLCAA to be constitutional. Because of the nature of the spurious claims raised by Brady Center attorneys, the court held that the FFLs, represented by Jim Vogts of Swanson, Martin & Bell LLP, are entitled to an award of reasonable attorney fees and costs.


FEDERAL APPEALS COURT TO REHEAR PERUTA CASE . . . The Ninth Circuit Court of Appeals has agreed to rehear the case of Peruta v. San Diego County before a panel of 11 judges of the court during the week of June 15. The appellate court last year struck down the county's overly restrictive concealed carry "good cause" policy as a violation of the Second Amendment. This move sets aside a separate 2-1 decision by the court denying attempts by both the Brady Center and the State of California to intervene in the case after the county itself declined to seek the full court's review. The court also granted rehearing in Richards v. County of Yolo, which tracks many of the same arguments raised in Peruta. It is possible that oral argument in the two cases will be heard by the court on the same day. We will keep you updated.


NSSF IN COURT AGAIN CHALLENGING MARYLAND LAW . . . NSSF, along with the NRA and other pro-Second Amendment parties, appeared before the Fourth Circuit Court of Appeals last week seeking to overturn Maryland's ban on popular modern sporting rifles and standard capacity ammunition magazines. The case, Kolbe v. Hogan, was argued before a three-judge panel of the Fourth Circuit and follows a ruling in the district court, which upheld the constitutionality of Maryland's Firearm Safety Act of 2013. Maryland contends there is no practical distinction between semi-automatic MSRs used by millions of law-abiding citizens and fully-automatic firearms used by the military, thus MSRs must be banned. The court also heard argument from the state that magazines in excess of a 10-round capacity are not necessary for self-defense and fall outside the protections enunciated in the U.S. Supreme Court's Heller decision. We expect the court to reach a decision later this year and will keep you updated. Listen to audio of the arguments.
2015 Industry Summit
EARLY BIRD REGISTRATION ENDS TOMORROW AT MIDNIGHT . . . It's getting down to the wire to get early bird pricing on registration for the 2015 NSSF Industry Summit. Fees increase beginning Wednesday, April 1, so register today. The NSSF Industry Summit is your opportunity to participate in the process of building a positive future for target shooting, hunting and the industry as a whole. Scheduled for June 1-3 in Savannah, Georgia, registration is open to individuals representing hunting and shooting sports organizations, conservation groups, wildlife agencies and the firearms and ammunition industry. Register Today.
Retailers
SHOULD YOUR EMPLOYEES CARRY WHILE WORKING? . . . If your employees haven't yet asked you to carry while they're working, they will. There are pros and cons to this issue. NSSF's Retail Compliance Consultant team member and firearms retail expert Bill Napier dissects those pros and cons and discusses putting policies in place for those store owners and managers who do permit in-store carry in this two-part blog series. Read it here: Part 1 | Part 2.


ATF Q&A . . . As part of NSSF's goal to provide support for the independent firearms retailers, we've established a free and unlimited 24/7 compliance hotline for our retailer members. Members can call in at any time and receive an answer within 24 hours. Here are two of the questions we received last week. The first question relates to the process for a licensed pawnbroker to return a firearm. The second question relates to an error our NSSF Compliance Team sees all too often, incorrect information for the type of firearm entered into the A&D Book. Click on the links to get the answers to these questions and many others.


CALL FOR PRESENTATIONS: 2016 SHOT SHOW UNIVERSITY AND RETAILER SEMINARS . . . NSSF has issued a call for presentations for SHOT Show University and the Retailer Education seminars held at the 2016 NSSF SHOT Show in Las Vegas, Nevada. The SHOT Show University is a day-long event that will take place on Monday, January 18 and the Retailer Education Seminars take place during the week of SHOT Show, Tuesday, January 19 through Thursday, January 21. To find out more about these events and presentation opportunities, click here.
Members
DID YOU KNOW? . . . NSSF members receive a 15% discount on any orders from an NSSF affinity benefit partner that specializes in video surveillance security solutions. Cutting-edge IP video, hybrid solutions and access control as well as superior customer service and strategic industry partnerships, result in customized video surveillance solutions that help businesses succeed. Learn more.
News of Note
COMPLIANCE CONFERENCE MAY 11-13 IN ORLANDO . . . NSSF and Orchid Advisors are sponsoring the annual Firearms Industry Compliance Conference, May 11-13, at the Marriott's Orlando World Center Resort. Discounted registration is available to all NSSF members. The 2015 conference brings together firearm manufacturers, importers, exporters, distributors, dealers and regulators such as the DOJ and ATF to answer the question, "How can I optimize compliance?" Larry Keane, NSSF Senior Vice President and General Counsel, explains, "NSSF is pleased to join with Orchid Advisors to co-sponsor this important and timely conference because it will offer the practical, operations-oriented solutions to our member base that we strive to provide." Register to attend. Highlights from last year's event can be found on the Orchid Advisors website.


content provided by

ACHIEVING FFL OBJECTIVES WITH INTERNAL CONTROLS . . . Firearm company executives and owners invest time preparing business plans, financial forecasts, inventory needs and other tools used to run the business. Whether or not they use these tools internally or present them to third party bankers or board members, they become targets for expected performance. Every business leader has an obligation to ensure that the objectives of Safety, Quality, Compliance and Profitability can be achieved on a repeated basis. That is, to expect the same result each time with little worry. So, how do they make that happen? Read the latest Orchid Advisory. Orchid Advisors is an endorsed compliance information provider for NSSF members.


SHOCKEYS UNITED AS HONORARY HUNTING & FISHING DAY CO-CHAIRS . . . The father-daughter celebrity hunting team of Jim and Eva Shockey have added to their considerable list of adventures by becoming honorary co-chairs for the long-running National Hunting and Fishing Day program. They are a perfect fit for the titles since the Canadian pair are deeply rooted in conservation efforts to better hunting for future generations. A recent news feature notes that Jim and Eva will be promoting National Hunting and Fishing Day throughout 2015 and on the day itself, September 26, in order to help recognize the extraordinary support sportsmen and women provide to conservation. Learn more about NHF Day at NHFDay.org and like them on Facebook.


NSSF FIVE STAR RANGE TO OPEN 83,000 SQUARE-FOOT RANGE . . . The Governors Gun Club, an indoor gun range that opened in Powder Springs, Georgia, in August 2013, is expanding and opening a new location in Kennesaw, which is expected to include a 35,000 square-foot indoor sporting clay range, a 13,000 square-foot retail showroom and a 6,000 square-foot restaurant and lounge, according to a news release. Mayor Mark Mathews said city officials are "very excited for the opportunity to have this state of the art, first of its kind in the country facility in the city." Filling up the remaining area of the soon-to-be 83,000 square-foot range is a 32-lane pistol and rifle range, an archery hunting simulator, a 30-yard, 2,900 square-foot indoor archery range and three 100-yard, high-power rifle lanes.


NSSF IN THE NEWS . . . The Washington Post, North American Hunter and many other news outlets across the country included NSSF in their coverage last week. Popular topics included the recent growth of shooting sports, impacts of Project ChildSafe and NSSF/ATF rewards for recent firearm retailer thefts. View a full wrap-up of NSSF in the News.
NSSF PAC
THANK YOU TO OUR LATEST NSSF PAC CONTRIBUTORS

Congressional Club ($250 or more): Randy Clark

Jobs
FIREARMS INDUSTRY JOBS . . . Visit nssf.org/jobs for current employment opportunities in the shooting, hunting and outdoor industry. Employers: Log in to post a job opening.
NSSF's Mission

"To promote, protect and preserve hunting and the shooting sports. "

Click here to visit the NSSF website and see how we accomplish this mission.
COPYRIGHT © 2015 by National Shooting Sports Foundation, Inc. Permission is granted for broadcast, publication, retransmission to email lists, Websites or any other copying or storage, in any medium, online or not, if 1) the text is forwarded in its entirety, including this paragraph, and 2) no fee is charged. "Bullet Points®," "National Shooting Sports Foundation®," "NSSF®," and all other trade names, trademarks, service marks, logos and images of the National Shooting Sports Foundation appearing in this publication are the sole property of the Foundation and may not be used without the Foundation's prior express written permission. All other trade names, trademarks, service marks, logos and images appearing in this publication are trademarks or registered trademarks of their respective owners.