NSSF is the trade association for America's firearms industry.
It's mission: To promote, protect and preserve hunting and the shooting sports.
Search NSSF


Bullet Points - Current Issue
Subscribe to Bullet Points
April 13, 2015

Vol. 16 No. 15
New NSSF Infographic: Ammunition Under Attack
The California Fish and Game Commission on April 9 adopted regulations to implement the law that will ban the use of traditional lead-component ammunition for all hunting in the state by July 1, 2019. The implementation will involve multiple phases, beginning with the 2015 hunting season. What has started in California could become reality elsewhere as anti-hunting groups use the supposed harm caused by traditional ammunition as a wedge issue to further their ultimate political agenda of banning hunting across the country. View the NSSF Infographic or YouTube video to get the facts.
Government Relations
HOUSE FINANCIAL SERVICES LEADERS ASK AGENCIES TO DISAVOW 'OPERATION CHOKE POINT' PRACTICES . . . In action strongly supported by NSSF, the leadership of the U.S. House Financial Services Committee has called on four federal financial regulatory agencies to publicly disavow "past, present, and future involvement in Operation Choke Point or any similar operation." Letters were delivered to the Federal Reserve, Consumer Financial Protection Bureau, Office of the Comptroller of the Currency and National Credit Union Administration. Signing the letters were Financial Services Committee Chairman Jeb Hensarling (R-Texas), Capital Markets and Government Sponsored Enterprises Subcommittee Chairman Scott Garrett (R-N.J.), Financial Institutions and Consumer Credit Subcommittee Chairman Randy Neugebauer (R-Texas), Housing and Insurance Subcommittee Chairman Blaine Luetkemeyer (R-Mo.), Monetary Policy and Trade Subcommittee Chairman Bill Huizenga (R-Mich.) and Oversight and Investigations Subcommittee Chairman Sean Duffy (R-Wis.) NSSF is working with members of Congress to end discriminatory practices by financial services providers against firearms-related businesses.


PRESIDENT OBAMA HAS NOT GIVEN UP ON GUN CONTOL, BUT . . . President Obama last week on ABC's "Good Morning America" told interviewer Dr. Richard Besser that he hasn't given up on passing more gun control laws, "But the power of NRA and the gun lobby in Congress is formidable," Obama said. "And you know, we're going to keep chipping away at this, but until you get intense public demands for this, it's probably not going to happen because some special interests and lobbyists in Washington are really, really strong and their membership feels very intensely about the issue. Whereas the general public is concerned about it, but doesn't make it their top priority." Coincidentally, the Washington Times pointed out the how well the American firearms industry has been doing during the Obama administration, noting historically high consumer demand that sent production of guns soaring to more than 10.8 million manufactured in 2013 alone.


NSSF CONGRESSIONAL FLY-IN PREPRATORY WEBINAR SCHEDULED . . . The NSSF Congressional Fly-in, April 22-23 in Washington, D.C., will bring together a record number of leaders from NSSF Voting Member companies and supporting distributor and manufacturing member companies, as well as leading retailers, to meet with members of both houses of Congress. At stake this year is passage of the Bipartisan Sportsmen's Act, the industry's top priority, as well as defeating President Obama's regulatory gun control agenda. Attendees should register here for the webinar, "Preparing for the 2015 NSSF Congressional Fly-In," which will take place April 15 at 10 a.m. EST. After registering, confirmed attendees will receive an email containing information about joining the webinar. During the webinar presentation, attendees will hear details concerning issues to be discussed on Capitol Hill and have the opportunity to ask questions and provide feedback to the NSSF government relations team. If you are not able to join the live webinar, a recorded version will be made available. To learn more about the importance of the Fly-In, watch this short video.


MISLEADING DONORS, LYING TO CONGRESS — JUST ANOTHER DAY FOR HSUS . . . The average person can't be blamed for thinking that donations to the Humane Society of the United States (HSUS) mostly go to help fund local animal shelters. But the HSUS 2013 tax return reveals that a mere 1 percent of its $120 million budget went toward helping animal shelters. The other 99 percent of that budget was spent on fundraising expenses or placed in offshore funds. It also turns out that the HSUS knows full well that most of its donors believe they're helping cats and dogs, not paying to advance an anti-hunting and anti-farming agenda. So what did the HSUS CEO say when asked about this state of affairs by a U.S. senator? Read NSSF Senior Vice President and General Counsel Larry Keane's blog.
For more of the latest Government Relations news, see last week's Government Relations Update.
Legal
APPEALS COURT HEARS ORAL ARGUMENT IN WALMART AR SALES CASE . . . A federal appellate court last week heard oral argument in the case of Trinity Wall Street v. Wal-Mart. At issue is whether Wal-Mart improperly excluded from 2014 proxy materials the church's shareholder proposal to require the corporation's board of directors to approve what are typically store-level management decisions on products. A lower court ruled against Wal-Mart, finding the big-box retailer should have included the church's proposal in proxy materials even though Wal-Mart received Securities and Exchange Commission approval to exclude it. This case highlights the risk posed by activist shareholders who own few shares but attempt to use the proxy proposal process to force publicly held businesses to stop selling certain products or engaging in activities they do not like. Because Wal-Mart's 2015 annual meeting is quickly approaching we expect the court to rule on the case no later than April 15. Read a Washington Times account in which the NSSF's Larry Keane is quoted.


Advertisement
POS System Designed for Gun Stores
... Manage your
A&D book
,
trade-ins/buy-backs
,
consignment
,
rentals
, and
smithing
with one system. There is even an optional component for
shooting range management
. The Rapid Gun System provides turnkey solutions for gun stores and shooting ranges. Their mission is to provide the
world's best POS system for gun stores
. Their integrated A&D book helps keep you compliant with ATF Ruling 2013-5 without having to utilize multiple systems. Easily manage your gun show sales, holding periods, special orders, driver's license scanning, and integrate with your current accounting software. Designed with enhanced email marketing capabilities, the
Rapid Gun System
helps drive business while you run your business. Their system is configurable to create a perfect fit for all sizes of gun stores - from mom-and-pop to multi-chain stores. Call 619.754.4100 to speak with one of their gun system experts.
Advertisement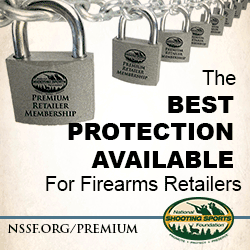 Advertisement
Take 20% off All Cartridge Display Boards! Just use Coupon Code: spring20.
It's time for spring cleaning at the
Classic  Shooting Company
and we want you to help us clear out the isles for the push brooms and mops. Use this opportunity to pick up a nice
Cartridge Display board
for the home or office. We have displays to showcase favorite cartridges and displays that exhibit whole cartridge collections. Our displays are hand-made in England. Spring is also a good time to stock up on
H&H Shotgun Ammunition
. We have plenty of loads for clays and birds. The newly printed
Woodleigh Bullets Loading Manual
has just arrived. This reloading book is packed with loads for all the popular cartridges as well as loads for older and obscure US, British, and European cartridges. Come check us out at
ClassicShooting.com
. Offer good for one week and is limited to available stock.
DOJ TO APPEAL IN HANDGUN TRANSFER FEE CASE . . . The U.S. Department of Justice has filed its notice of appeal in Mance v. Holder after the lower court found the federal interstate handgun transfer ban to be unconstitutional. The case was brought by a D.C. couple who tried to purchase two handguns while traveling in Texas, but they would have been required to pay the only D.C.-based FFL a $125 transfer fee for each handgun to complete the sale. The district court found the burdens associated with the residency-based handgun transfer restrictions in the law failed to advance any government interest and infringed on core Second Amendment rights. A stay of the court's final judgment was denied in February, but now that notice of an appeal has been filed it is expected that the U.S. Department of Justice will again seek a stay as the appellate process unfolds. NSSF is actively tracking this case and intends to file an amicus brief on behalf of the industry once briefing is under way.

ATF
ATF REPORT SHOWS DECLINE IN FFL THEFTS/LOSSES IN 2014 . . . Alcohol, Tobacco, Firearms and Explosives (ATF) has released its annual Federal Firearm Licensee Loss/Theft Report and it shows an overall decline in the number of firearms lost or stolen from FFLs in 2014 compared to 2013. Looking at losses alone, the report shows a 10 percent decrease. Over half of the states reported fewer firearms lost in 2014 compared to the year before.


NFA BRANCH RELEASES LATEST PROCESSING TIMES REPORT . . . ATF has reported NFA Branch processing times as of March 31, 2015. The report shows processing times for all forms unchanged from Dec. 31, 2014. See the ATF NFA Branch processing times report.


WILL ATF PUSH BACK FINAL RULING FOR 41P? . . . According to an opinion published by the Price Law Offices, ATF may delay its final ruling for ATF 41P another six months. ATF attorney William Ryan spoke during the NRA Annual Meeting last week in Nashville and stated that the ATF is "still sorting through the comments filed in opposition to ATF-41P." ATF was expected to take action next month but may likely push this back another few months. The proposed rule 41P seeks to make changes to the transfer of NFA firearms, essentially doing away with gun trusts that are allowed under current law.
2015 Industry Summit
SUMMIT SPOTLIGHT: GENERATIONAL DYNAMICS . . . NSSF's 2015 Industry Summit will feature Seth Mattison, Founder and Chief Movement Officer of FutureSight Labs, presenting actionable information and research to develop fresh perspectives on the key strategic issues most relevant to today's leaders. Edgy and interactive, he uses stories and humor extensively to craft presentations that are educational, motivational and entertaining. Mattison brings an entirely unexpected perspective on the future of work, talent, innovation and the power of relationships. Join us in Savannah and learn how to adapt more quickly and proactively to changes in the marketplace.
First Shots
BIG CITY TOUR COMING TO DALLAS . . . Feel the thrill of what millions enjoy as their favorite pastime with NSSF First Shots® Big City Tour May 1-3. This is a 3-hour event, where firearms safety education and responsibility will be presented in a safe, fun and controlled environment. Classes are limited in size so register today at one of six Dallas, Texas-area target-shooting facilities. The seminars are free and open to men and women 21 and older and to 18-20-year-olds accompanied by a parent or legal guardian. Each seminar puts participants in a classroom setting to learn firearm fundamentals and pertinent laws and regulations and then to the firing line with certified instructors.

Retailers
ATF Q&A . . . Every week many great questions come in on our NSSF member compliance hotline. This hotline is free to our members and available 24/7. Log into your account to get the details. The first question relates to the importer that should be entered into the A&D book when the foreign manufacturer and the importer have the same company name. The second question asks whether an employee who becomes prohibited from possessing firearms can continue to be employed by an FFL. Click on the links to find answers to these and many more great questions from our members.


TRAINING IN THE ART OF LISTENING . . . With the approaching summer months, the inevitable second- and third-quarter slowdown is in sight. While the slowdown does present some challenges, it also offers opportunities. One of these is the chance to spend additional time training your staff. There are many things worth training your staff to handle and many ways to perform that training, but no better training can be had than that of teaching your sales team the art of listening. Training your staff to listen in a quality manner can be relatively simple, especially when you use some quick role-playing with your front line staff. Read more.


NSSF REPORT HELPS RETAILERS WORK BETTER WITH TODAY'S FIREARMS BUYERS . . . The face of the shooting sports is clearly changing, but understanding who is driving the change and what sparks people's interest to get involved in the shooting sports is not always obvious. Learn more about these new customers' needs related to customer service, advertising and marketing, staffing, promotions and merchandising. We hope this overview provides insight in ensuring your continued success. Download Now
Members
DID YOU KNOW? . . . NSSF Retailer Members receive free admission to NSSF's ATF and FFL compliance seminars across the country ($100 per person for non-members). Learn more.
News of Note
NSSF PROUD TO SUPPORT 2015 SHOOT FOR SCOUTING . . . Held at the Dover Furnace Shooting Grounds on April 24, the 2015 Shoot For Scouting supports maintenance and improvement of three Boy Scout camps, directs services to over 21,000 youth and 9,000 adult volunteers and provides financial assistance for youth in need and the expansion of the Scouting mission to the youth of Connecticut. NSSF is proud to be a sponsor for this event and will donate a Remington VersaMax shotgun to support Boy Scouts of America and its mission.


SPEAKERS, SPONSORS ANNOUNCED FOR MAY COMPLIANCE CONFERENCE . . . Orchid Advisors and NSSF have announced keynote speakers and top sponsors for the 2015 Firearms Compliance Conference to be held on May 11-13, 2015, in Orlando, Florida. More than 30 speakers will be present from organizations such as ATF, Remington Outdoor Company, Smith & Wesson, Sports Authority, Dunham's Sports, NSSF, Orchid Advisors and SAAMI. Discounted registration is available to all NSSF members. Register to attend. Highlights from last year's event can be found on the Orchid Advisors website.


content provided by

SOFTWARE ANALYTICS BOOST ATF COMPLIANCE, BUSINESS PROFITS . . . Software-based business analytics are being used to monitor transactions on a real-time basis, including but not limited to firearm sales discounts, expense reimbursements and even electronic A&D book transactions. This week's Orchid Advisory provides real-life examples where industry leaders of all sizes are using technology to meet (or exceed) compliance expectations and drive business performance. Orchid Advisors is an endorsed compliance information provider for NSSF members.


USA'S EMMONS EARNS OLYMPIC QUOTA SLOT . . . Matt Emmons demonstrated why he's a three-time Olympic medalist with a season-opening victory accompanied by an Olympic quota in the prone rifle event last Sunday at the International Shooting Sport Federation (ISSF) World Cup in Changwon, South Korea. His qualifying score was 632.0 points—just 0.3-point off the world record. A quota spot is the entry ticket necessary for a country to compete in Olympic competition in a particular discipline, though those USA Shooting athletes who earn quota slots still have to earn the right to compete at the Olympics separately.


SHOOTING INDUSTRY SUPPORTS USA SHOOTING AUCTIONS . . . USA Shooting will launch 15 months' worth of gun auctions whose proceeds will help support programs and training for the marksmen and -women who represent our country on the world competition stage. Ten manufacturers have stepped up so far to donate firearms to the auction. Each gun will be engraved by Baron Engraving and be put up for bidding at GunBroker.com, the official auction site of the USA Shooting Team. The first firearm up for auction is an XR9 pistol from Boberg Arms Corporation. Other manufacturers making donations to the auction are North American Arms, Walther, Winchester, Browning, Bond Derringer, Sig Sauer and Mossberg. Learn more.
NSSF PAC
Jobs
FIREARMS INDUSTRY JOBS . . . Visit nssf.org/jobs for current employment opportunities in the shooting, hunting and outdoor industry. Employers: Log in to post a job opening.
NSSF's Mission

"To promote, protect and preserve hunting and the shooting sports. "

Click here to visit the NSSF website and see how we accomplish this mission.
COPYRIGHT © 2015 by National Shooting Sports Foundation, Inc. Permission is granted for broadcast, publication, retransmission to email lists, Websites or any other copying or storage, in any medium, online or not, if 1) the text is forwarded in its entirety, including this paragraph, and 2) no fee is charged. "Bullet Points®," "National Shooting Sports Foundation®," "NSSF®," and all other trade names, trademarks, service marks, logos and images of the National Shooting Sports Foundation appearing in this publication are the sole property of the Foundation and may not be used without the Foundation's prior express written permission. All other trade names, trademarks, service marks, logos and images appearing in this publication are trademarks or registered trademarks of their respective owners.