NSSF is the trade association for America's firearms industry.
It's mission: To promote, protect and preserve hunting and the shooting sports.
Search NSSF


Bullet Points - Current Issue
Subscribe to Bullet Points
March 23, 2015

Vol. 16 No. 12
ATF Director B. Todd Jones Announces Resignation In Wake of 5.56 'Green Tip' Ammunition Reaction
Bureau of Alcohol, Tobacco, Firearms and Explosives (ATF) Director B. Todd Jones announced Friday that he is resigning. Deputy Director Thomas E. Brandon will serve as acting director after Jones departs. NSSF was aware that Jones was planning to step down, his decision likely accelerated by the overwhelmingly negative public and Congressional response to the bureau's now-withdrawn proposal to adopt a regulatory framework that would have banned 5.56mm M855 "green tip" ammunition. Jones was nominated by President Obama in January 2013 and confirmed in August of that year, the first ATF director in history to receive Senate confirmation. He had been acting director since August 2011 while also serving as U. S. Attorney for the District of Minnesota. Brandon was appointed deputy director of ATF in 2011 and has more than 26 years of experience with the bureau, serving as special agent in charge of the Phoenix and Detroit field divisions. See Attorney General Eric Holder's statement. For perspective on the 5.56 ammunition issue read NSSF Senior Vice President and General Counsel Larry Keane's latest blog post. And in related news:
23 STATE ATTORNEYS GENERAL TELL ATF THEY OPPOSE THE BAN . . . The attorneys general of 23 states have jointly written ATF and while they applaud the bureau's decision for now not to issue a new regulatory framework that would ban M855 ammunition, the letter leaves no doubt that they would oppose any bureau attempt to move forward. "

…

ATF's justification for proposing the ban is arbitrary and, if followed to its logical end, could be used to ban a wide range of rifle ammunition," the AGs' letter states.


PUBLIC COMMENTS TO ATF TOP 310,000 . . . ATF is now reporting that it has received more than 310,000 comments from the public on the agency's now-withdrawn 5.56 mm ammunition proposal. By any standard, that response over such a relatively short period is truly overwhelming. NSSF thanks all those who contacted ATF and their members of Congress on this matter.
Setting the Record Straight
SENATORS MISFIRE ON AMMUNITION BAN . . . "It is unfortunate that Senators Blumenthal and Murphy continue to misinform citizens on firearms-related issues and promote the latest misaddressed and ineffective gun control measure," NSSF said in a statement provided to Guns.com. Connecticut's two Democratic U.S. Senators recently held a press conference to encourage the Bureau of Alcohol, Tobacco, Firearms and Explosives (ATF) to go forward with a plan that would result in the banning of 5.56 M855 "green tip" ammunition due to the supposed threat that the widely-held ammunition presents to law enforcement officers. Earlier, NSSF spokesman Mike Bazinet told NBC Connecticut "… the Fraternal Order of Police and the National Sheriffs Association have said the 5.56mm rounds don't pose any additional risk to law enforcement."


Advertisement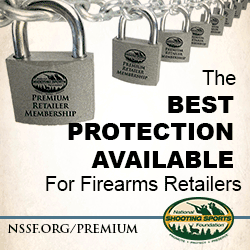 Government Relations
HSUS HEAD TELLS SENATORS HE'S NOT ANTI-HUNTING . . . The U.S. Senate last week held its second hearing on the Bipartisan Sportsmen's Act of 2015, at which Humane Society of the United States President Wayne Pacelle testified in opposition to a widely supported package of pro-hunting and pro-sportsmen legislation. Despite a documented record of anti-hunting statements, Pacelle told senators, "I want to be clear that the Humane Society of the United States is not opposed to hunting." See this NSSF Legislative Action Alert, then call your Senators at 202-224-3121 or email them today and urge them to sign on as a cosponsor to S.405, the Bipartisan Sportsmen's Act. Passage of this legislation is an NSSF priority.


ANNUAL NSSF CONGRESSIONAL FLY-IN IS APRIL 22-23 . . . Registration is open for the annual NSSF Congressional Fly-in, April 22-23 in Washington, D.C. This is a great opportunity for leaders from NSSF Voting Member companies and supporting distributor and manufacturing member companies, as well as leading retailers, to meet with members of Congress. At stake is passage of the Bipartisan Sportsmen's Act, the industry's top priority, as well as defeating President Obama's regulatory gun control agenda. To learn more about the importance of claiming a seat at the table, watch this short video. For security purposes, a full agenda including locations and information on how to book a room in the NSSF hotel block will be sent to you via email after you register. Register today to attend this crucial Fly-In.


FIREARMS MANUFACTURERS AND DEALERS PROTECTION ACT INTRODUCED . . . U.S. Rep. David Schweikert (R-Ariz.) has introduced the Firearms Manufacturers and Dealers Protection Act of 2015 in response to the effects of Operation Choke Point, the Department of Justice and Federal Deposit Insurance Corporation program intended to restrict the provision of banking and financial services to industries deemed at "high risk" of conducting illegal activity but that in reality are out of favor with a highly political Obama administration. The legislation would defund and eliminate the potential for such programs to emerge in the future. It complements the work of U.S. Rep. Blaine Luetkemeyer (R-Mo.), who has introduced similar legislation. NSSF is active in legislative efforts to end Operation Choke Point abuses and other discriminatory activities that unfairly target law-abiding businesses in the firearms, ammunition and related industries. On Tuesday, the House Financial Services Committee Oversight and Investigations Subcommittee will be holding a hearing with Martin Gruenberg, the Chairman of the FDIC to discuss the FDIC's role in Operation Choke Point.


CRAPO AMENDMENT PASSES SENATE BUDGET COMMITTEE . . . On the other side of Capitol Hill, U.S. Sen. Mike Crapo (R-Idaho) is using the budgetary process to end Operation Choke Point activities. His NSSF-supported amendment to the Senate budget proposal to establish a deficit-neutral reserve fund to end the controversial program was approved Thursday on a 13-9 vote at the Senate Budget Committee markup of the Senate's Fiscal Year 2016 budget blueprint.


FIND ACT INTRODUCED IN ALABAMA . . . State Rep. Ed Henry has introduced HB 327, the Alabama Firearms Industry Nondiscrimination (FIND) Act. This is the second state to see NSSF-supported legislation introduced to protect the lawful commerce in firearms, ammunition or related products by making it a discriminatory business practice to refuse provision of services. FIND Act advocacy is a new NSSF initiative for 2015. We encourage industry members to tell us of instances of discrimination solely because of your involvement in any firearms-related business by emailing Elizabeth Karasmeighan, ekarasmeighan@nssf.org.
For more Government Relations news, read NSSF's latest Government Relations Update.
Import/Export
ICE UNFREEZES RULE THAT AFFECTS HUNTERS GOING ABROAD . . . U.S. Immigration and Customs Enforcement (ICE) appears to have started enforcing a three-year old regulation that could have a serious impact on the hunting community. Under a requirement that has not been enforced since it was imposed in 2012, Americans travelling overseas with a firearm must file paperwork using the government's Automated Export System (AES) to register the "temporary export" of any firearm. The problem, which NSSF was the first to flag back in 2012, is that individual hunters cannot become certified by AES in order to file the necessary paperwork and obtain the required documentation that Customs is now requiring at the port of departure. With no national security purpose underlying this long-dormant requirement, NSSF is working toward a repeal of the regulation and will discuss the major concerns with State Department officials during a meeting this week.
2015 Industry Summit
INDUSTRY SUMMIT EARLY BIRD DISCOUNT DEADLINE MARCH 31 . . . Space for this year's NSSF Industry Summit is filling fast, but there's still time to secure your seat and take advantage of early registration pricing. This special pricing ends March 31. After that, registration fees will increase, so take advantage and register now. The NSSF Industry Summit will be held June 1-3 in Savannah, Georgia, and registration is open to individuals representing hunting and shooting sports organizations, conservation groups, wildlife agencies and the firearms and ammunition industry. Register today.
Project ChildSafe
STATE OF UTAH LAUNCHES GUN SAFETY INITIATIVE WITH PROJECT CHILDSAFE . . . NSSF's Project ChildSafe program, which encourages gun owners to safely handle and securely store their firearms when not in use, has been made a component of Utah's new Firearm Safety Program and suicide prevention initiative. A bill sponsored by Rep. Steve Eliason and passed by the legislature provides multi-year funding for the program, which will distribute Project ChildSafe gun locks and safety literature. The initiative was launched last week at a well-attended press event at the State Department of Public Safety in West Valley City. Representing NSSF, President and CEO Steve Sanetti said, "We are proud to be a part of this program. This effort is an outstanding example of leadership in the area of firearm safety and serves as a model for other states to consider." See coverage on Salt Lake City's Fox 13 channel.



VISTA OUTDOOR CONTINUES STRONG SUPPORT FOR PROJECT CHILDSAFE . . . Two more companies in the Vista Outdoor family of highly visible brands—Federal Premium Ammunition and Blackhawk—announced their support for NSSF's Project ChildSafe program last week. Federal Premium Ammunition and Blackhawk join Savage Arms, which recently announced its support for Project ChildSafe, in encouraging gun owners to securely store their firearms when not in use to help deter accidents, theft and misuse. The companies are promoting the message of "Own It? Respect It. Secure It." in a variety of ways, including with new video PSAs. Watch the video promoted by Federal Premium and the Blackhawk video.
Rimfire Challenge
WINCHESTER AND WMD GUNS RENEW AS SILVER SPONSORS . . . NSSF is pleased to announce that Winchester Ammunition and WMD Guns have agreed to again sponsor the NSSF Rimfire Challenge program at the Silver level. With a company history spanning nearly 150 years, Winchester Ammunition is a global supplier of firearms ammunition and one of the most recognizable brands in the industry. Specializing in advanced and proprietary firearms coatings, WMD Guns also manufactures a full line of modern sporting rifles and handguns. This is the second year that both companies have supported the Rimfire Challenge program at the Silver level.
Retailers
ATF Q&A . . . As part of NSSF's goal to provide support for the independent firearms retailers, we've established a free and unlimited 24/7 compliance hotline for our retailer members. Members can call in at any time and receive an answer within 24 hours. Here are two of the questions we received last week. The first question relates to a juvenile (18 and under) possessing a handgun on the business premises of a licensee. The second question relates to a transferee being required to provide his or her Social Security Number on the ATF Form 4473. Click on the links to get the answers to these questions and many others.


NSSF ADDS JOHN CLARK TO THE FFL COMPLIANCE CONSULTANT TEAM . . . NSSF is pleased to announce that business executive John Clark has agreed to join the organization as a member of its retail FFL Compliance Consultant Team. The principal partner and founder of PCI Services, LLC, a consultancy firm that provides small to mid-size businesses with sustainable solutions that positively effect growth and protect interests, Clark also serves as the Director of Asset Protection Operations for a major retail sporting goods chain with responsibilities spanning more than 450 individual retail locations. Read the press release.
Members
DID YOU KNOW? . . . NSSF Members receive an impressive discount on a complete software system that manages all areas of a firearm/sporting goods retail operation. The system integrates point-of-sale, inventory management, warehouse, distribution center, allocation, e-commerce, data mining and more, and includes reporting features that are within the ATF's requirements, replacing the need for bound log books. Learn more.
News of Note
NSSF CELEBRATES POMA'S 10th ANNIVERSARY . . . Celebrating its 10th anniversary, the Professional Outdoor Media Association (POMA) held its annual conference this past week in Springfield, Missouri. Highlights included the kick-off dinner at the nearby flagship Bass Pro Shops store, roundtables discussing women's roles in the shooting sports, and a Friday afternoon luncheon sponsored by NSSF that debuted the new Project Childsafe safety video with champion shooter Julie Golob. "We're excited to see POMA reach this milestone," said Jennifer L.S. Pearsall, NSSF Director, Public Relations. "This is truly an organization of open-minded people who work together to exchange ideas, improve their craft and help the industry promote, protect and preserve hunting and the shooting sports. We wish them many congratulations in their 10th anniversary and look forward to many more years of helping them achieve their goals."


MOSSY OAK AND POMA PRESENT PINNACLE AWARDS . . . At the Professional Outdoor Media Association's 10th anniversary conference in Springfield, Missouri, last week, POMA and sponsor Mossy Oak presented the prestigious Pinnacle Awards, recognizing remarkable achievement in outdoor sports-focused communications. In the Book Category, Vin Sparano won for his "The Complete Outdoors Encyclopedia," and Brad Fitzpatrick won in the Conservation Category for "The Hunt That Changed America," published in the Izaak Walton League of America's Outdoor America magazine. Awards also were presented in the Magazine, Newspaper/Web, Broadcast and Photography/Art Categories.


content provided by

ATF EFORMS: GETTING STARTED WITH ELECTRONIC IMPORT TECHNOLOGY . . . We live in a world of evolving technology. It encompasses most of what we do from email to regulatory forms processing. Not only does technology eliminate the need for paper-based processes but it allows us to process transactions at a greater pace and with increased accuracy — much to the aid of electronic internal controls. Learn more in this Orchid Advisory. Orchid Advisors is an endorsed compliance information provider for NSSF members.


COMPLIANCE CONFERENCE MAY 11-13 IN ORLANDO . . . NSSF and Orchid Advisors are sponsoring the annual Firearms Industry Compliance Conference, May 11-13, at the Marriott's Orlando World Center Resort. Discounted registration is available to all NSSF members. The 2015 conference brings together firearm manufacturers, importers, exporters, distributors, dealers and regulators such as the DOJ and ATF to answer the question, "How can I optimize compliance?" Larry Keane, NSSF Senior Vice President and General Counsel, explains, "NSSF is pleased to join with Orchid Advisors to co-sponsor this important and timely conference because it will offer the practical, operations-oriented solutions to our member base that we strive to provide." Register to attend. Highlights from last year's event can be found on the Orchid Advisors website.


BRIAN OSOWIECKI JOINS SAAMI AS MANAGER, TECHNICAL AND REGULATORY AFFAIRS . . . The Sporting Arms and Ammunition Manufacturers' Institute announces that Brian Osowiecki will be its new Manager of Technical and Regulatory Affairs. Osowiecki comes to SAAMI from Smith & Wesson, where he was Manager of Compliance and played an important role in the development and implementation of the company's Firearms, Trade and Corporate Compliance program. Read the press release.


NSSF IN THE NEWS . . . The Washington Post, Newsweek and many other news outlets across the country included NSSF in their coverage last week. Popular topics included the recent growth of shooting sports at the college level, ATF's now-withdrawn proposal to ban 5.56 M855 "Green Tip" ammunition and the increasing number of women gun owners. View a full wrap-up of NSSF in the News.
NSSF PAC
THANK YOU TO OUR LATEST NSSF PAC CONTRIBUTORS

President's Club ($5,000): No new contributors to report

Cabinet Club ($2,500 or more): No new contributors to report

Capitol Club ($1,000 or more): No new contributors to report

Caucus Club ($500 or more): No new contributors to report

Congressional Club ($250 or more): Chris Jarvis

Industry Club (up to $249): Larry Keane
Jobs
FIREARMS INDUSTRY JOBS . . . Visit nssf.org/jobs for current employment opportunities in the shooting, hunting and outdoor industry. Employers: Log in to post a job opening.
NSSF's Mission

"To promote, protect and preserve hunting and the shooting sports. "

Click here to visit the NSSF website and see how we accomplish this mission.
COPYRIGHT © 2015 by National Shooting Sports Foundation, Inc. Permission is granted for broadcast, publication, retransmission to email lists, Websites or any other copying or storage, in any medium, online or not, if 1) the text is forwarded in its entirety, including this paragraph, and 2) no fee is charged. "Bullet Points®," "National Shooting Sports Foundation®," "NSSF®," and all other trade names, trademarks, service marks, logos and images of the National Shooting Sports Foundation appearing in this publication are the sole property of the Foundation and may not be used without the Foundation's prior express written permission. All other trade names, trademarks, service marks, logos and images appearing in this publication are trademarks or registered trademarks of their respective owners.