NSSF is the trade association for America's firearms industry.
It's mission: To promote, protect and preserve hunting and the shooting sports.
Search NSSF


Bullet Points - Current Issue
Subscribe to Bullet Points
January 26, 2015

Vol. 16 No. 04
SHOT Show Points to Big Year for Industry
SECOND HIGHEST ATTENDANCE EVER . . . NSSF's SHOT Show rang up its second highest attendance ever last week, giving the industry a very good indicator that a strong sales year lies ahead. Long a bellwether for the industry's prospects, the SHOT Show brings together buyers and sellers from the U.S. and more than 100 countries. Total attendance was nearly 64,000, second only to last year's record-setting event, attended by nearly 67,000. Lower attendance reflected strengthened pre-screening of attendees to enhance the overall experience of both exhibitors and buyers. "We know from long experience that attendance at the SHOT Show is a reflection of the state of our industry," said Chris Dolnack, NSSF Senior Vice President and Chief Marketing Officer. "This second highest attendance is in keeping with what we saw in the past year -- that our industry is in good health and that manufacturers, wholesalers and retailers have a positive outlook for this year."
Look Back at the 2015 SHOT Show:
Wrap-Up News Release | Photos | Videos | SHOT Show Blog
Advertisement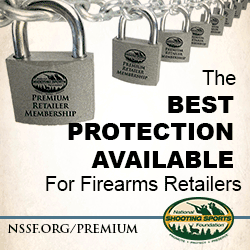 Advertisement
POS System Designed for Gun Stores
... Manage your
A&D book
,
trade-ins/buy-backs
,
consignment
,
rentals
, and
smithing
with one system. There is even an optional component for
shooting range management
. The Rapid Gun System provides turnkey solutions for gun stores and shooting ranges. Their mission is to provide the
world's best POS system for gun stores
. Their integrated A&D book helps keep you compliant with ATF Ruling 2013-5 without having to utilize multiple systems. Easily manage your gun show sales, holding periods, special orders, driver's license scanning, and integrate with your current accounting software. Designed with enhanced email marketing capabilities, the
Rapid Gun System
helps drive business while you run your business. Their system is configurable to create a perfect fit for all sizes of gun stores - from mom-and-pop to multi-chain stores. Call 619.754.4100 to speak with one of their gun system experts.
SHOT DAILY ISSUES AVAILABLE ONLINE . . . Digital editions of all four issues of SHOT Daily, the magazine printed each day of the SHOT Show, are available online here. SHOT Daily is published for NSSF by Bonnier Corp., publishers of Outdoor Life, Field & Stream and SHOT Business magazines.
STATE OF THE INDUSTRY: 'DETERMINED' . . . At the annual State of the Industry Dinner, NSSF President Steve Sanetti delivered a powerful address, stating that our industry is, in a word, "determined." "I have never seen our industry more determined to succeed in its mission by working together," Sanetti said. Watch the entire address here.
LIPSEY, KEEFE HONORED . . . At the State of the Industry Dinner, Richard Lipsey, owner of Lipsey's, one of the nation's largest sporting goods distributors, received the prestigious NSSF Ken Sedlecky Award for long-term commitment to the success of the industry and supporting NSSF's mission to promote, protect and preserve hunting and the shooting sports. Mark Keefe, editor-in-chief of American Rifleman magazine, was awarded the POMA-NSSF Grits Gresham Shooting Sports Communicator Award.
PRODUCT SPOTLIGHT VIDEOS . . . Again this year, NSSF provided an opportunity for exhibiting companies to showcase their new products in a series of online SHOT Show Product Spotlight videos. Those taking advantage of this offering included Vertx, Streamlight, Carl Zeiss Sports Optics, Slide Fire, Zenith Quest and Schmidt & Bender. If your company is interested in being featured during next year's SHOT Show, contact NSSF's Chris Tatulli. Watch all of the Product Spotlight videos here.
SHOT SHOW AUCTION YIELDS $67,000 . . . The annual SHOT Show Auction, featured on GunBroker.com, raised more than $67,000 for programs to benefit America's hunting and shooting sports heritage. Leading all bidding was $61,325.00 for "The Hornady Number One," the first firearm ever manufactured in Hornady's history. The Hunting Heritage Trust administers the auction for NSSF, with generous support from GunBroker.com.
TALKING SHOT . . . We caught up with some familiar faces at the show for a series of videos we've titled "Talking SHOT." Included in these interviews are Sarah Palin, conservative radio show host and author Dana Loesch, professional shooter Julie Golob, Milwaukee County Sheriff David A. Clarke Jr. and others. See what everyone had to say about their experience at the 2015 SHOT Show here.
Read the SHOT Show Blog for more news from the SHOT Show.
NSSF PAC
THANK YOU TO OUR LATEST NSSF PAC CONTRIBUTORS

President's Club ($5,000): Michael Evans, Michael Fifer, Travis Hall, Jason Hornady and Steve Hornady

Cabinet Club ($2,500 or more): Robert Steger and JoAnn Weisenford

Capitol Club ($1,000 or more): No new contributors to report

Caucus Club ($500 or more): Mitchell Butler, Matthew Chisholm III, Taylor Gross and Joyce Rubino

Congressional Club ($250 or more): Joseph Bartozzi, Jeffrey Buchanan, James Debney, Chris Dolnack, Michael Halleron, Christopher Killoy, Richard Patterson, Stephen Sanetti, Trevor Santos and Thomas Sullivan

Industry Club (up to $249): Nicholas Seifert and George Stebbins Jr.

2015 Legislative Fly-In
2015 NSSF LEGISLATIVE FLY-IN . . . Save the date for NSSF's 2015 Legislative Fly-In, April 22-23 in Washington, D.C. More details on this year's event will follow. Stay tuned.
Research
NSSF REPORT: WOMEN GUN OWNERS . . . More than half of women (55.6 percent) participating in a new study commissioned by NSSF said they intend to purchase at least one firearm in the next 12 months. That finding and many others reflect the growing popularity of firearms ownership by women, who represent the fastest growing segment of the shooting sports. During the SHOT Show, NSSF discussed the findings in the new report, "Women Gun Owners: Purchasing, Perceptions and Participation." Read the full press release and view a new infographic titled "Girl Power."
NEWEST SURVEY TRACKER AVAILABLE TO MEMBERS . . . The NSSF Survey Tracker is a monitoring service using an online panel of active hunters and target shooters. Sourced by Southwick Associates' online panel at HunterSurvey.com, each report features: Market Snapshot -- purchases made in the past two months; and Market Leaders -- the top brands purchased in different retail categories. This December 2014 edition posts Market Leaders for black-powder balls, bullets, or shot as well as for shotgun ammunition. It also includes responses to questions related to hunting license purchases. NSSF members may view, in addition to this latest edition, historical survey trackers by logging on to nssf.org/members and clicking on "NSSF Industry Research" and then on "Survey Tracker."
USITC FIREARMS AND AMMUNITION DATA FOR NOVEMBER 2014 . . . NSSF tracks and reports monthly U.S. import and export units for several sporting arms, ammunition and optics categories from the U.S. International Trade Commission. See a complete breakdown of each category's November import and export data. NSSF members may access additional historical import and export data by logging in and clicking NSSF Industry Research.
Ranges / Retailers
LEAD MANAGEMENT AND OSHA COMPLIANCE WORKSHOP . . . NSSF will hold a Lead Management and OSHA Compliance Workshop March 1-3 in Charlotte, North Carolina, open to all shooting range owners and operators. The two-day workshop will cover a variety of topics, including environmental risks to shooting ranges, environmental laws and regulations pertaining to shooting ranges, OSHA code enforcement, safety and health strategies, recordkeeping, hazard response and communication and more. Learn more.
ATF Q&A . . . We received a number of excellent compliance questions from our retailers during the educational sessions that NSSF hosted at the SHOT Show. One common question was regarding how to properly complete the 4473 form during a pawn redemption. Another question was whether a customer has to provide their social security number on the 4473 form. For answers to these questions, and a slew of others, visit our ATF Q&A page.
Jobs
FIREARMS INDUSTRY JOBS . . . Visit nssf.org/jobs for current employment opportunities in the shooting, hunting and outdoor industry. Employers: Log in to post a job opening.
NSSF's Mission

"To promote, protect and preserve hunting and the shooting sports. "

Click here to visit the NSSF website and see how we accomplish this mission.
COPYRIGHT © 2015 by National Shooting Sports Foundation, Inc. Permission is granted for broadcast, publication, retransmission to email lists, Websites or any other copying or storage, in any medium, online or not, if 1) the text is forwarded in its entirety, including this paragraph, and 2) no fee is charged. "Bullet Points®," "National Shooting Sports Foundation®," "NSSF®," and all other trade names, trademarks, service marks, logos and images of the National Shooting Sports Foundation appearing in this publication are the sole property of the Foundation and may not be used without the Foundation's prior express written permission. All other trade names, trademarks, service marks, logos and images appearing in this publication are trademarks or registered trademarks of their respective owners.